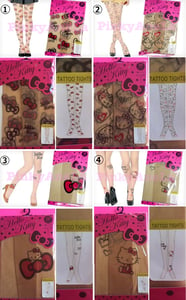 $

10.99
Super KAWAII Hello Kitty Tattoo Tights/Pantyhose!!
SIZE M~L
Available in 4 designs.
Price is for ONE PAIR.
About the Product
Sanrio Hello Kitty 20 Denier Tattoo Tights Stocking 150~165cm
Made to be sold only in Japan 100% Authentic
Hips : 91/16"~ 913/16" or 85cm ~ 98cm
Length: 59"~ 65" or 150~165cm
Made of Nylon, Polyurethane. Super soft and comfortable for your feet.